What's Twitch?
Twitch is a video operating live streaming site.
The site mainly focuses on love game streaming, including broadcasts of e-sports competitions and music broadcasts and, most recently, 'real life' streams.
It was launched on June 6th, 2011, and created by Justin Kan and Emmett Shear, and it has been one of the best game streaming sites ever since.
With over 4 million broadcasters each month and 18 mil daily users, it's the go-to platform for gamers hoping to turn their hobby and fun into a little extra cash.
So, as we got acquainted with what Twitch is and what it does, let's get to the case:
How can you earn money on Twitch and get a little extra in your pocket.
The first thing is, become an Twitch affiliate program member.
On Twitch, when you get 50 followers or more, you immediately become an affiliate.
At some point, this will give you a share of the pre-roll ads that Twitch runs against your stream.
But that typically won't give you much money.
But what it gives is an option to run the paid subscriptions, which are shared 50-50 with Twitch.
And the price for subscriptions run from 5-25$.
And what your subscribers will be paying for is exclusive chat rooms, discounts on merchandise, and unique emoticons.
Viewers can also purchase what are called bits, which come in all different colors and sizes.
The price for bits goes from 1.4$ for 100 bits.
Viewers than cheer for their favorite broadcasters by leaving bits in the chat and the broadcaster receives 1 cent for every bit.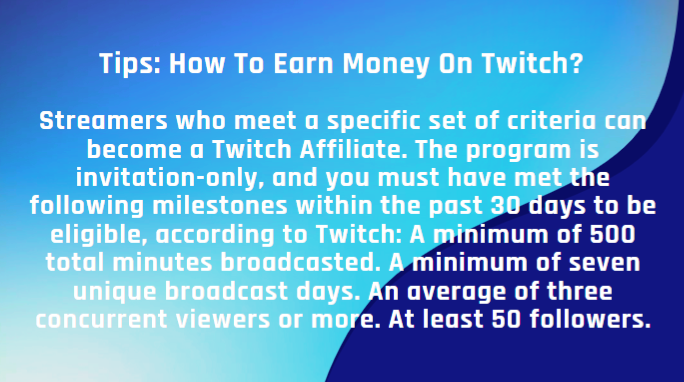 Another way of earning money is by donations.
The viewers on your account make the donations.
You can add a 'donate' button onto your account and let the viewers donate.
Another benefit of this way of earning money is that there is no share with Twitch; everything viewers donate is going into your account.
Furthermore, if you start getting more views and subscriptions, you have the option of applying to become a Twitch Partner.
If you get accepted, you will get much more exposure because Twitch will start promoting your streams.
But not only that, you will get offers for sponsorships for products like a headset, gamer chair, banners, etc.
You may also get an opportunity to have your merchandise, and you may be invited to some conventions.
In conclusion, the road to becoming a streamer this caliber is long and hard, and the competition is fierce, but if you work hard enough, it is achievable.
I would suggest that if you are trying to build a fan base and be successful in this field, don't be motivated by money.
Learn how to do marketing and promote your Twitch and your work.
There is a lot of talented money motivated people on Twitch already.
Don't be one of them.
If you want to Twitch make money on this platform, you will have to stand out.
Try putting an accent on something that makes you unique, whether it's your sense of humor, style, making money on twitch and making yourself stand out is the way to go!